2020 SEALS CAMP DATES (CANCELLED FOR 2020)
Thursday June 4, 2020
Thursday June 11, 2020
Thursday June 18, 2020
Thrusday June 25, 2020
Thrusday July 2, 2020
Thrusday July 9, 2020
Thrusday July 16, 2020
Thrusday July 23, 2020
Thrusday July 30, 2020
Thrusday August 6, 2020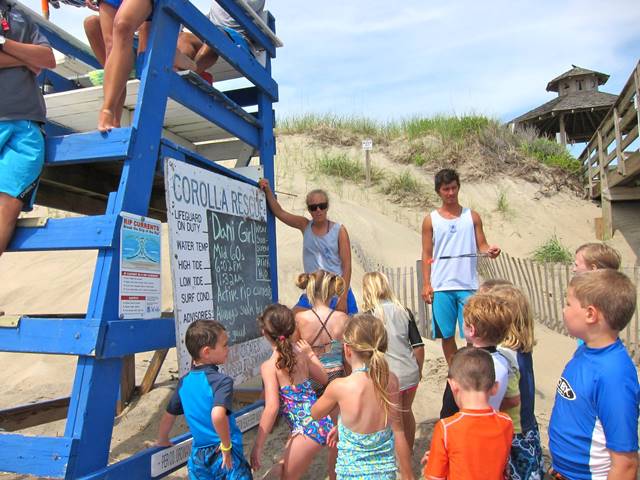 WHAT: SEALS is a free two-hour ocean safety mini-camp for kids interested in learning about the ocean, first-aid, marine life, and physical fitness. Local ocean rescue lifeguard instructors will lead the kids in various activities including playing games, how to read the lifeguard's advisory board, building thier own rip-current, how to avoid potential hazards found on the beach and more. Kids will also learn and interact with the Wildlife Education Center staff about the amazing diversity of local marine life. Kids will work together as a team to learn about how to have a safe and fun vacation. Parents and guardians are invied to attend a short informational seminar offered simultaneously.
WHO: Kids ages 6-13. Children outside the ages of 6-13 may participate at the discretion of the camp leader on that day.
WHEN: SEALS is held Thursdays only beginning June 4, 2020 and August 6, 2020. Registration begins at 9:30 am and the camp takes place from 10 am to noon.
WHAT TO BRING: All participants should bring a water bottle and towel, and wear sunscreen and a bathing suit. Parents are going to want to bring a camera for some great photo ops!
WHERE: SEALS takes place on the beach on the East side of Corolla Village Road, directly across the street from the Currituck Beach Lighthouse. There are public bathrooms and showers located in the parking lot, and look for our SEALS sign on NC 12 on camp days.
HOW: SEALS is offered free of charge, however donations are appreciated and will help ensure the future of the program. T-shirts are available for purchase on-site. This program would not be possible without the generous support of our local sponsors: Whalehead Property Owner's Association, Agave Roja, Corolla Kiteboarding, Corolla Fire and Rescue Squad, Corolla Pizza, Dolphin Watch Gallery, Lighthouse Bagels, Banana Boat Sunscreen, The Outer Banks Center for Wildlife Education, and Currituck County.